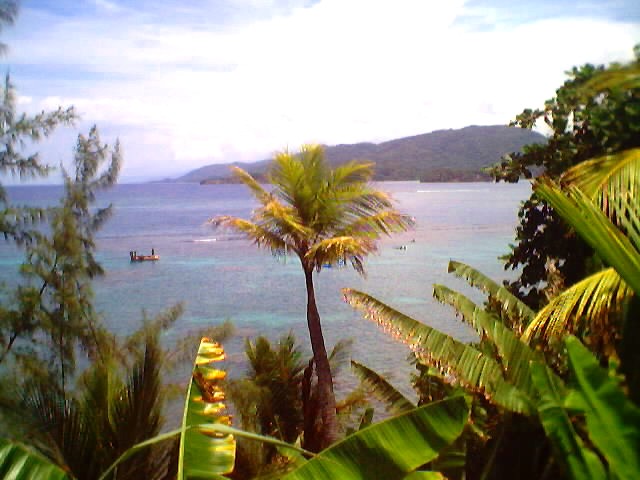 WELCOME to our hide-a-way home....The most relaxing, laid back, eco-paradise location in Jamaica.
Our upstairs en-suite guest rooms offer comfy beds with stunning sea views over the bay to Cabrita Island and Port Maria and your own veranda...your'll be King (or Queen) of your Castle....not much of an incentive to go down the few steps to our near derserted beach and swim in the crystal clear water or snorkle the 'walk in' reef... or choose one of our garden budget rooms...all with sea view....life here is all about making time stand still....we're the ultimate hide-a-way & hassle free get-a-way....
Our home offers you a chance to rejunivate your body and spirits... to forget about everday life & stress...enjoy some good food and company...to read the book you always meant to... to wander the shore line and collect drift wood & shells with our dogs...or to just relax and take in the view.....
Sea Lawn Coral Beach is located between Noel Cowards Blue Harbor Hotel & Casa Maria Hotel in the quiet fishing village of Castle Garden, nr Port Maria, St.Mary...
The lively tourist town of Ochi Rios is only 30mins away & offers lots of local attractions...Check out 'Chefs Tour Page' for some ideas...

Our near deserted beach gives you easy access to the reef and some great snorkling in the warm, crystal clear water...Wake every day to a beautifull sunrise and for a few days every month, some great moonrises...We are right below Noel Cowards 'Firefly', a half hour walk up the hill...or you can visit the Arawak museum and burial site....Fishing boats are available to take you on sea trips...we have 2 local shops within 2 mins walking distance, which stock most of what you'll need...we also have a small shop on site and full restaurant and bar...
Check out some trip reports on Chef & Libby at www.jamaicans.com also a great source for lots of Island info, or why not drop in at 'Tek me back a yard' forum where I (LibbyT) is a moderator
We hope you 'soon come'
*Sea View Rooms
*Veranda
*Cooling Fans and Sea Breeze's
*Hot Water Showers
*Fresh Local & International Food
*Beach with 'walk-in reef'
*Bus Trips & Airport Transfres
*Cel Phone Rental